By Jason Ditz
The Egyptian military junta routinely carries out airstrikes in the Western desert without any indication of who was killed. Today, however, the most recent of the airstrikes ended up causing something of an international incident, when it turned out they'd attacked a group of Mexican tourists and their Egyptian guides, killing 12 and wounding many more.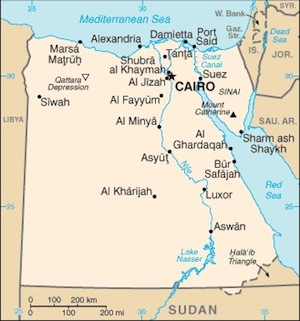 The tourists were stopped by the side of the road and having a barbecue when,  in what is described as a joint military police and armed forces operation, Egypt launched several airstrikes against them. The Interior Ministry referred to them as being "mistakenly dealt with."
Not that they're apologizing or anything. The Egyptian tourism chairman insisted that the Mexicans "didn't have a permit" and that the military thus had no reason to assume they weren't terrorists. Local witnesses, however, say that not only was the attack in an unrestricted area, where no special permit was needed, but that the local police had been giving the tourists a police escort through nearby towns to prevent any incidents.
Mexican President Enrique Pena Nieto condemned the killings and demanded a full investigation. That's unlikely, of course, since the Egyptian junta maintains they did nothing wrong, and that if the tourists didn't want to get "dealt with" they shouldn't have been barbecuing on top of a sand dune.