by Jason Ditz
Yesterday's attack in the Indonesian capital city of Jakarta has been claimed by ISIS, with the attackers apparently having links both to the ISIS parent organization in Syria and to Indonesian extremist Bahrum Naim, who some officials are speculating may have been involved in plotting the incident.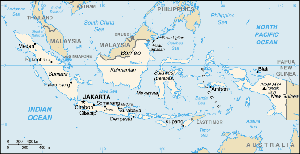 The attackers, a group of suicide bombers and gunmen, hit an area around a Jakarta Starbucks, and a nearby police post, killing two civilians, a Canadian citizen and an Indonesian. Five attackers were also reported killed in the incident.
The Indonesian government responded to the incident with deployments of some 150,000 security personnel, and reported an unspecified number of arrests related to the attack. Australia was the first nation to raise a travel alert warning against vacationing in Indonesia for the time being.
The incident is far afield of usual ISIS haunts, but in keeping with their constant efforts to expand. Despite the comparatively small death toll, the high-profile of the incident, in a major nation's capital city, is fueling a new round of panic across the world about the possibility of overseas strikes.