by Jason Ditz
In a 397-223 vote that followed over 10 hours of debate, the British House of Commons voted in favor of expanding the nation's involvement in the ISIS war into neighboring Syria. A previous resolution had only allowed them to conduct strikes in Iraq.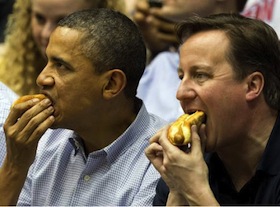 Shortly after the vote, the first four British bombers took off from an air base in Cyprus, heading toward Syria. Officials indicated that the first strikes were likely to happen within a matter of hours, but didn't offer further clarification beyond that.
Prime Minister David Cameron has been pushing hard for the vote, and accused those voting against it of being "terrorist sympathizers." During today's debate he labeled ISIS "medieval monsters" and insisted attacks would begin as soon as possible. Officials have since indicated the first strikes could happen as soon as tonight.
The vote was much more strongly in favor of the airstrikes than most had expected, as the opposition Labour Party was said to have strongly opposed the vote, but 67 MPs ultimately switched sides. Cameron had also come under criticism from some in his own party for claims about 70,000 "moderate" Syrians willing to back Britain in the strikes.
Despite being explicitly forbidden from doing so until today's vote, British warplanes have bombed Syrian targets several times in the past year, with Cameron arguing those were "technically" legal because the planes were embedded with Canadian forces. With Canada withdrawing from the war, Cameron has since needed to come up with a new justification, and so sought today's vote.